Obstetrics: General Information
Philosophy
Having a baby should be a wonderful experience and I feel privileged to be invited to be involved in one of life's great events. I try to allay anxieties and hope I am a reassuring presence.
Over the years I have dealt with an enormous range of personalities and situations. Each pregnancy and delivery is unique and I do not take a "one size fits all" approach. The emphasis is on safety, but I do try to accommodate individual needs.
Unless a Caesarean is scheduled, I aim to minimise obstetric interventions. However, if the need arises, I can draw on the substantial procedural experience that comes from delivering 5000 babies over twenty years of specialist practice.
My Practice
When you come to see me for obstetric care, your first point of contact is my practice manager, Sarah Beecroft. Sarah and I have been a team for the last twelve years. Sarah is very experienced and has a wealth of knowledge. She can help you with the process of booking at the Mater and can help address any concerns or questions you may have.
Initial questions often relate to fees, insurance, hospital costs, work, travel, diet, exercise, medications and preliminary tests. You can attend for routine visits at either my city rooms (near Martin Place) or at the Mater Clinic in North Sydney. Antenatal classes with midwives take place at the Mater or privately in my rooms.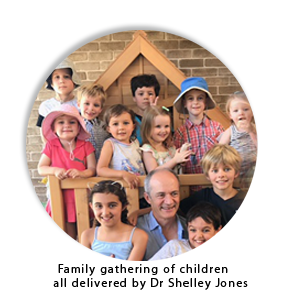 I aim to maintain a personal and caring practice. To achieve this I don't engage in rotating rosters and I deliver at just one hospital of great quality. Tight geography makes it easier to respond to calls from delivery suite and I usually make daily visits while you are in hospital after the delivery.

Fees
Sarah can provide a fee schedule and explain any aspects regarding the cost of having a baby with me at the Mater. We do make modifications at times, particularly for women who have had babies before, women who have to deal with the tyranny of distance on our big continent and women who are relatively young. Other special circumstances can also be discussed.
To help you understand my role, I have outlined Your Obstetric Journey